We are a small rare breed farm located in beautiful Mid Wales. Glyn Canol Old Farm had been an abandoned dwelling for over 80 years so it took a bit of renovating before starting on the outside areas ready for the livestock. At the end of December 2015 we moved from Warwickshire where we bred and showed rare breed poultry and were active members of the local Rare Breed Survival Trust Support Group.
Our journey with rare breed cattle and sheep started April 2016 and we now have several breeds of sheep for their wool and meat, hogget and mutton, and Original Population Dairy Shorthorn giving us milk for ourselves and meat occasionally. We also sell registered pedigree stock.
The Wild Welsh Wool part of the business followed in July 2017 and now runs peg loom weaving, felted fleece and tapestry courses, attends markets, shows, WI talks and takes commissions. Regular markets are Montgomery and Knighton. Shows are Berriew, Shrewsbury Steam Fair, Montgomery, Royal Welsh Show, Wool and Willow Festival.
Thankfully our phone & Internet have now been restored.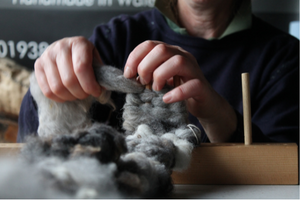 Peg Loom Courses & Events
We can supply all the equipment needed to start enjoying peg loom weaving as well as tuition courses at the farm and online via Zoom.
What our customers say ...
[...] Sharon is a patient and kind teacher and host, and the location is beautiful. Although she does online courses, I'd definitely recommend spending the day there - you learn loads from chatting with other like-minded crafters and Sharon herself. Sharon has a lovely well equipt workshop and small holding, and a wealth of knowledge about all things wool!
Thank you for doing another great course, thoroughly enjoyed.
Sharon is very knowledgeable in all courses that she teaches and has an amazing laid back personality which gives a great ambience for learning. Hospitality on her at home courses is so natural and amazing. Pure country and real. Thank you.
I ordered beautiful natural locks from Wild Welsh Wool they are so gorgeous that I use them in my felt art 🥰
I did the wet felting a rug tutorial. it was really informative and Sharon was so helpful. Would usually prefer to do this in person but I feel that it was made so easy over zoom and wouldn't hesitate to try other courses available this way. I want to try the peg loom weaving course next. Would definitely highly recommend Wild Welsh Wool.